What is Microsoft Teams Premium Intelligent Meeting Recap?
The "Intelligent Recap" feature of Microsoft Teams Premium uses AI to automatically provide a comprehensive overview of meetings. In doing so, it should help users save time and coordinate the next steps. Teams Premium customers, who have activated the feature, receive automatically generated meeting notes, recommended tasks, and personalized highlights so they can quickly find the most important information, even if they miss a meeting.
Intelligent Recap is currently only available in English and only for Teams Premium customers. Further languages are to follow in the fall of 2023. However, it is not clear when exactly – in various Microsoft forums, delays and problems with the implementation in EU countries can currently be read out.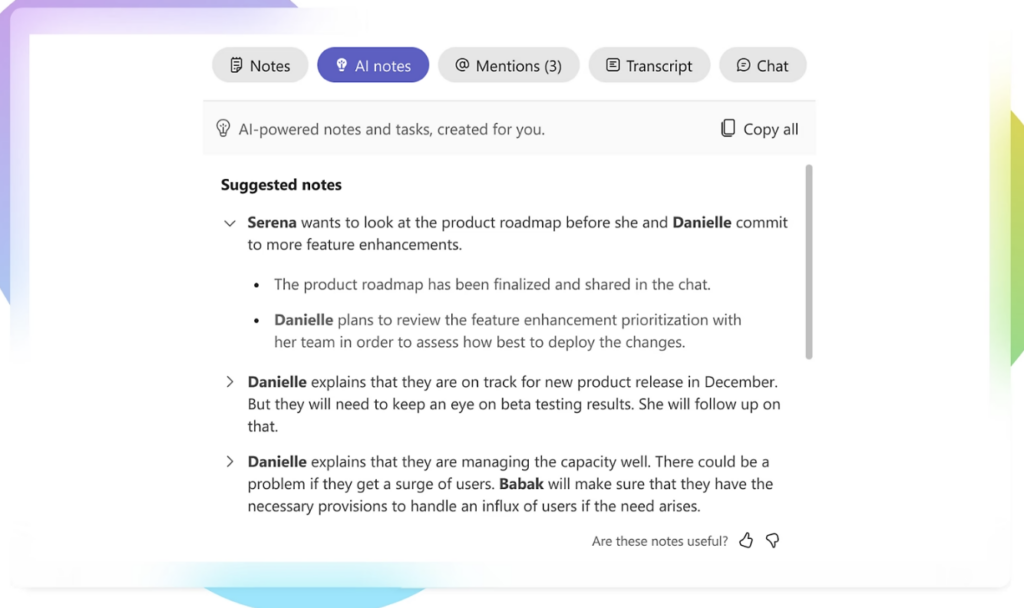 Can Teams Premium Intelligent Recap also be used by companies for meetings that are not in English?
Short answer: currently not. Here are the three main issues:
Microsoft Teams Premium Intelligent only works if all meeting participants have a Teams Premium license.
It works only in English. This makes it useless in meetings where, for example, German is spoken.
It processes your data in the USA, which could be questionable from a data protection point of view.
Is there an alternative for the Teams Premium Intelligent Recap for other languages?
Tucan.ai is the optimal Teams Premium Intelligent Recap alternative.
On the one hand, the data at Tucan.ai is hosted exclusively in Germany, on the other hand, Tucan.ai works not only in English and German, but also in Spanish, French and other languages.
In addition, Tucan.ai offers more flexibility in meeting summaries and lets users define what they want to know about a particular meeting via freely definable queries. Read more…
| | | |
| --- | --- | --- |
| Microsoft Teams integration | Yes | Yes |
| Zoom integration | Yes | No |
| Google Meet integration | Yes | No |
| WebEx integration | Yes | No |
| Works for in-person meetings | Yes | No |
| Import pre-recorded audio/video files | Yes | No |
| Meeting transcripts | Yes | Yes |
| Automatic speaker recognition | Yes | Yes |
| Customizable to (corporate) technical vocabulary | Yes | No |
| Meeting summaries | Custom | Generic |
| Textdocument summaries | Yes | No |
| PDF summaries | Yes | No |
| Languages | English, German, Spanish, French, +5 more | English |
| Works in all countries | Yes | No |
| Data processing location | Germany | USA |
| On-premise solution | Optional | N/A |
Outsmart your competition!
Tucan.ai helps you analyze and manage your interviews, conversations and meetings by automatically transcribing, organizing and summarizing the data.
Meeting summaries comparison
Teams Premium Intelligent Recap meeting summaries are based on standard templates. It should be noted that all meeting participants without exception must have a Teams Premium account in order for the feature to function without restriction. If this is the case, and the Teams Transcription feature is enabled, all participants receive a generated standard summary of the meeting that highlights important topics and outlines next steps.
Standard, highlight and follow-up summaries can be easily created with Tucan.ai. However, enterprise customers can also access complex custom summaries. With Tucan.ai one or more custom statements can be used to pull out different information depending on the type of meeting.
Summaries in keywords or complete sentences, the next to-dos, a mood or sentiment analysis of the meeting and much more can be requested. Furthermore, these things can be queried for specific information from the meeting. There are no limits for the user here.
Meeting summaries in Tucan.ai:
Meeting summaries in Teams: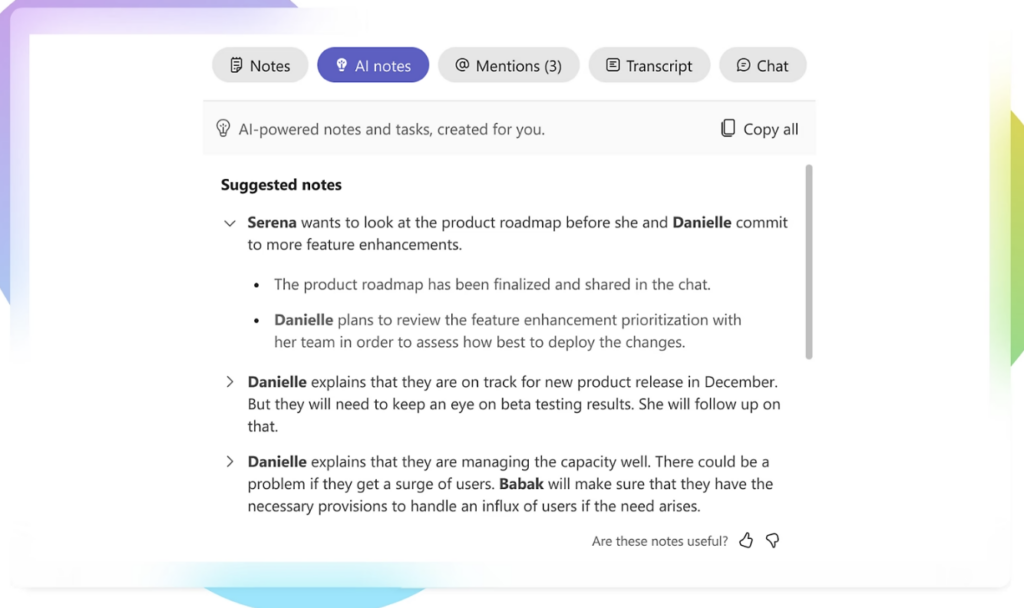 Looking for an enterprise solution?
Whether custom data model training, custom workflow integrations, cloud or on-premise, or advanced security features, anything is possible with Tucan.ai. Tailor your package to your needs together with your personal Tucan.ai advisor.