You are most likely reading this, because you are not satisfied with the solutions and technologies the AI hype has generated for market researchers.
And you shouldn't be.
Artificial intelligence was first envisioned as a technology, that would massively reduce the workload of humans, drive automation and enable new ways of working. ChatGPT has proven that AI is capable of assisting humans during work, but sophisticated industries like market research require more than just a beautiful front-end that links to a generalistic and basic service like GPT 3.5. Now, more than ever, there is a need for quality AI tools for market researchers.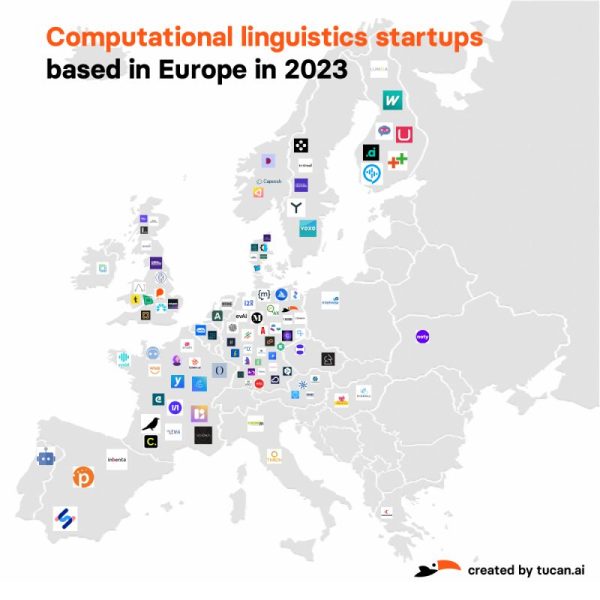 But what is a quality AI solution?
The most valuable resource any market research firm has, is it's human capital and the unique minds that are capable of designing and evaluating intelligent studies. As such, the quality of a solution is decided by how powerful the support mechanisms of said solutions are. AI-platforms need to be non-intrusive, easy to use and should never infringe on a human's ability to have the last say in intellectual matters. At the same time, they should massively reduce time spent on rudimentary tasks and enable new ways of working.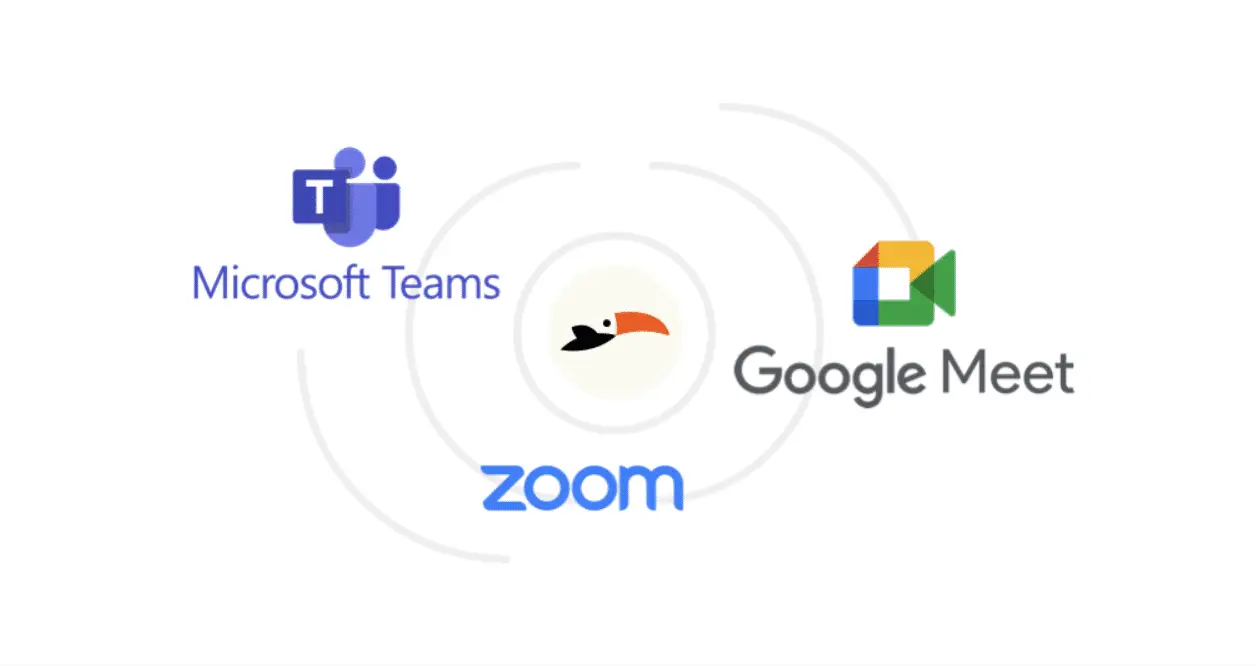 tucan.ai – a proven AI platform for market research.
As our award for being the most innovative market research solution of 2023 shows, tucan.ai is a real AI-solution that was established well before the AI hype and uses proprietary algorithms and models. And because we are more than just a pretty mask for API calls to 3rd party providers, we are able to provide our services both online and offline and customize them to perfectly match the workflows, processes and IT-infrastructure of our partners. It comes as no surprise that some of the biggest market research firms across the globe are currently implementing our solution to ensure they stay ahead of the curve. We enable qualitative researchers…
Our cutting-edge AI assistant allows you to get your interviews and focus groups encoded automatically on predefined categories or themes. In addition to the encoding of answers, researchers can define additional analysis tasks or datapoints they would like to extract from the data medium and receive results in mere minutes, whereas manually completing this task often takes the average researcher multiple days. Beyond market research, this function can also be used for opinion polling and similar fields that rely on qualitative data analysis. Learn more in our factsheet "AI-powered encoding with Tucan.ai" or contact us for a copy of the presentation we used for our viral "qualitative market research and AI" webinar.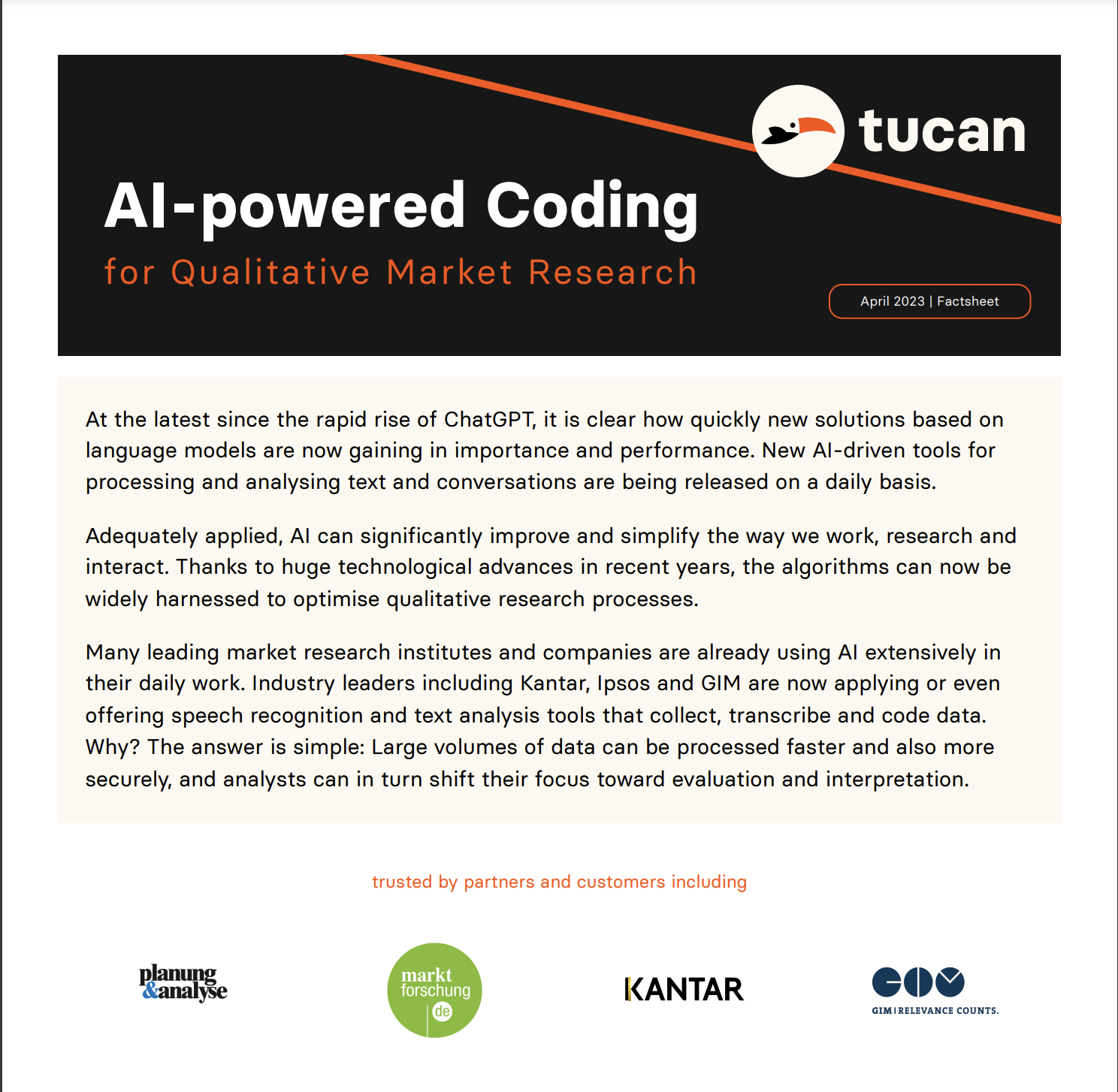 …and quantitative researchers!
A recent addition and much requested feature of our existing market research customers, is the inclusion of functionalities that assist in quantitative market research. Our first release in this feature group allows you to analyze an unlimited number of datapoints based on a predefined code-plan or even ask the AI to create a code-plan for you. In our test, a researcher analyzed 400 datapoints with a partial code-plan. The AI assistant had the objective to complete the code-plan based on the given data and then quantify all entries based on all code-plan categories. The results were perfect and the entire process only took 1 minute and 43 seconds, all the way from opening our platform to opening the exported results. That is 228 times faster than even a fast researcher could have done it manually. To learn more about our new quantitative research features, contact us directly or sign up for our upcoming "quantitative market research and AI" webinar.
Contact us today and see how tucan.ai can transform your studies by enhancing every single workflow and enabling your researchers to 10x their results in a single month.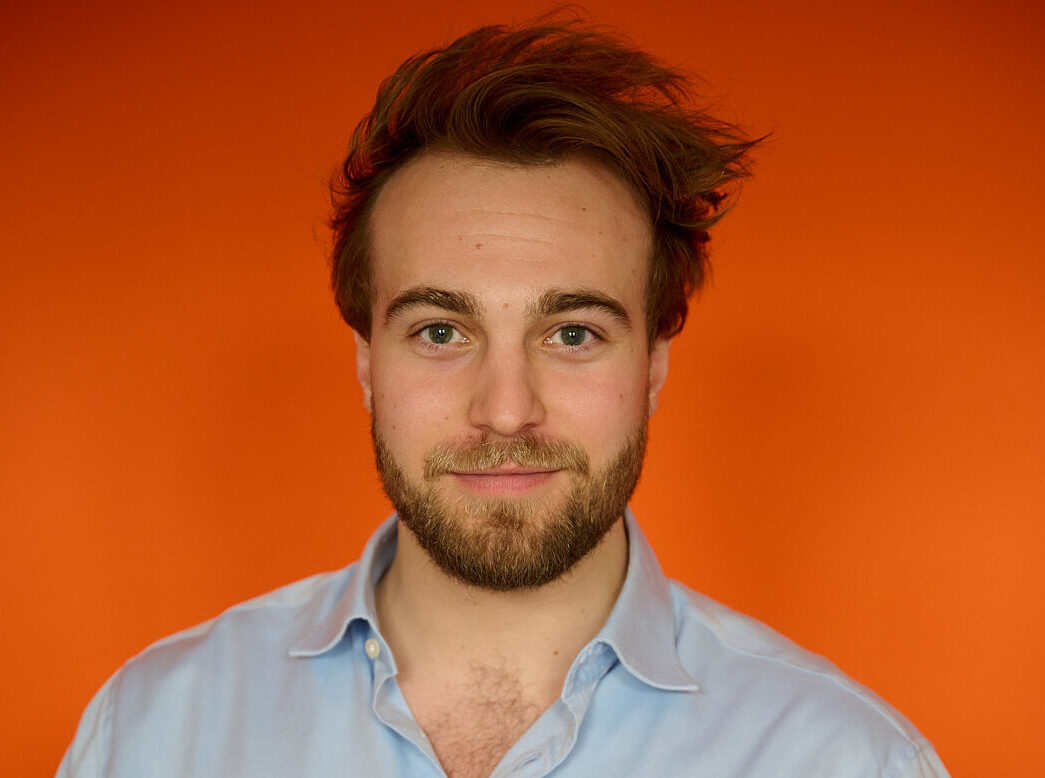 In case you wish to learn more about Tucan.ai's solutions for teams and enterprises, please schedule a short online call with our CEO, Florian Polak (florian@tucan.ai).

"We at Axel Springer have been using Tucan.ai for already over two years now, and we continue to be very satisfied with the performance of the software and the development process as a whole."
Lars

"I have known the founding team for over a year. At Porsche, we are very satisfied with their work so far. I have recommended the use of Tucan.ai to my colleagues and business partners and I have been getting highly positive feedback back across the board - both on the service and the software."
Oliver

"Tucan.ai has been a game-changer for our team. The software is incredibly intuitive and easy to use. It has saved us countless hours of work and has allowed us to focus on what really matters - our clients. I would highly recommend Tucan.ai to anyone looking for an AI-powered productivity tool."
Alex