What is Fireflies.ai?
Fireflies.ai uses artificial intelligence (AI) to create automated meeting notes with transcription, audio recording and automatic meeting summaries.
The meeting tool from the USA comes with a variety of features. It can help companies, as well as individuals, to make internal as well as external meetings more productive and efficient. This can save them tremendous time (and money).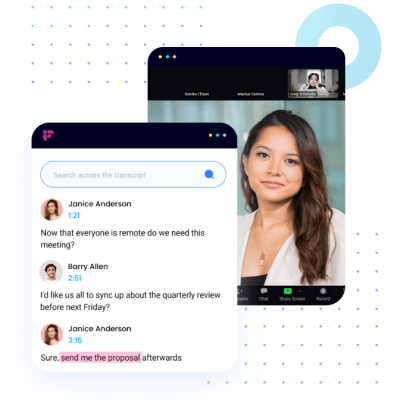 Is there an alternative for Fireflies.ai?
Tucan.ai is the ideal Fireflies.ai alternative – especially when it comes to customized enterprise solutions, Tucan.ai offers advantages.
| | | |
| --- | --- | --- |
| Zoom integration | Yes | Yes |
| Microsoft Teams integration | Yes | Yes |
| Google Meet integration | Yes | Yes |
| Import pre-recorded audio/video files | Yes | Yes |
| Meeting transcripts | Yes | Yes |
| Automatic speaker recognition | Yes | Yes |
| Search meeting archive with keyword | Yes | Yes |
| Meeting summaries | Custom | Generic |
| Summaries across multiple meetings | Yes | No |
| ChatGPT-like" queries of the entire meeting archive | Yes | No |
| Languages | English, German, Spanish, French | English |
| Data processing location | Germany | USA |
| On-premise solution | Optional for enterprise customers | N/A |
| Access and permissions | Yes | Yes |
Outsmart your competition!
Tucan.ai helps you analyze and manage your interviews, conversations and meetings by automatically transcribing, organizing and summarizing the data.
Meeting summaries comparison
Fireflies.ai can automatically identify the most important keywords and provide an overview of the meeting in a few paragraphs, bullet point notes as well as to-dos.
With Tucan.ai you can create simple summaries by meeting type. Enterprise customers can also access complex user-defined meeting summaries. Similar to Chat-GPT, one or more custom instructions can be used to pull out various information depending on the meeting type.
Summaries in keywords or complete sentences, the next to-dos, the mood in the meeting and much more can be queried. However, these things can also be queried only for a specific person, for example, if you want to know the tasks resulting from the meeting only for this person. There are no limits for the user here.
Meeting summary in Tucan.ai: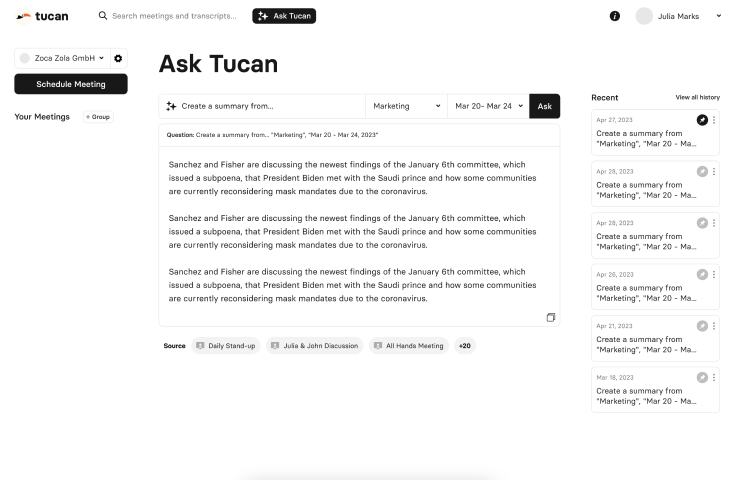 Meeting summary in Fireflies.ai: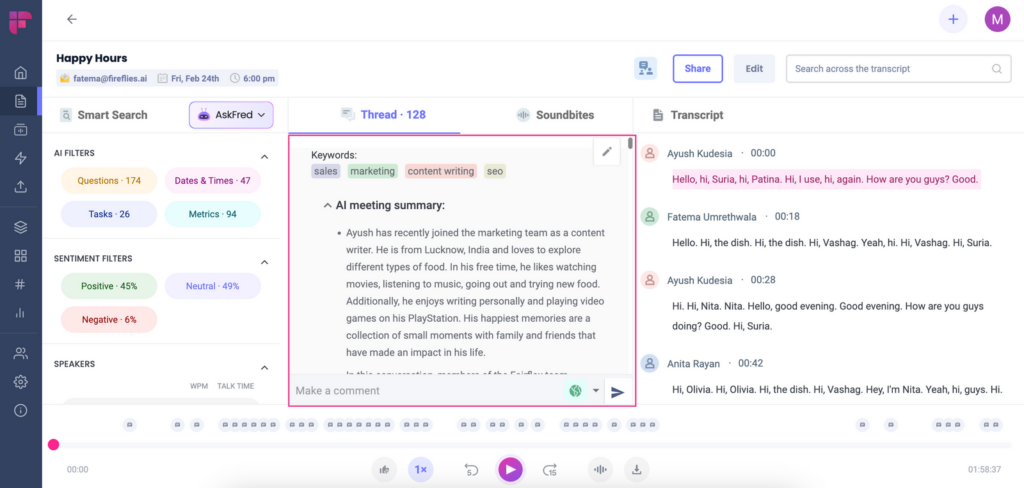 More than "just" summaries with TucanGPT
Since verbal communication is automatically transcribed, summarized, the information can be stored in an organization-wide "conversation database." Entreprise customers can query the entire collected company knowledge via the AI at the push of a button – virtually like a company internal "Chat-GPT". A "smart knowledge archive" is created, which can be expanded by internal documents, supports strategic decisions and breaks down silos.
Looking for an enterprise solution?
Whether custom data model training, custom workflow integrations, cloud or on-premise, or advanced security features, anything is possible with Tucan.ai. Tailor your package to your needs together with your personal customer advisor.