Want to test Tucan.ai for free?
Amberscript offers software for transcription and subtitling with an option for manual instead.
Conversely, Tucan.ai offers transcription, subtitling, and, uniquely, artificially intelligent meeting summarisation software.
For regular users who want to regularly transcribe audio files or add subtitles to videos automatically, but also have the option to have them done manually, Amberscript offers those services. For professional users who want to make meetings more efficient and impactful with accurate transcriptions, subtitles, and meeting summaries powered by AI, Tucan.ai is the leading tool.
In this article, we're going to compare Amberscript and Tucan.ai. We'll provide an overview of their main features, outline their pricing, analyse each tool in context, and detail how easy it is to work with their team.
Let's dive in.
Overview
| | | |
| --- | --- | --- |
| Accuracy | 90% | 85% |
| Summarisation | Has the ability to summarise audio recordings from meetings, providing action items and takeaways. | Their transcription tool doesn't summarise results. |
| Export formats | Plain text file (.txt), Microsoft Word (.docx), SubRip (.srt), Open Document Text (.odt), Portable Document Format (.pdf) | Plain text file (.txt), Microsoft Word (.docx), SubRip (.srt), JavaScript Object Notation (.json), Web Video Text Tracks (.vtt), European Broadcast Union subtitles (EBU-STL) |
| Sentiment analysis | Can detect the emotions of speakers with a high level of accuracy. | Does not identify the sentiment of speakers. |
| Correcting errors | Streamlined correction using AI to detect highly accurate transcriptions versus those that need a second look. | Has the ability to correct mistakes but doesn't highlight the errors quickly. |
| Multiple users | Unlimited users. | Multi-user license available for enterprise customers. |
| On-premise functionality | On-premise solutions are available for enterprise customers. | Has an on-premise service for customised high-volume cases. |
| Integrations | Integrates with Zoom, MS Teams and Google Meet and has the ability to customise for enterprise customers. | Supports integration with video management systems like Kaltura, Opencast, Panopto, Company Webcast, and more. |
| API access | Tucan.ai provides API access and the following features: multi-language support in (German, English, Spanish, and French), dual-channel audio, speaker labelling, summarisation, automatic punctuation, timestamps, sentiment analysis and various audio and video formats. | API is available in 80+ languages. Supports dual-channel audio, speaker labels, automatic punctuation and case formatting, timestamps, and a range of audio/video formats. |
Auf der Suche nach einer Enterprise Lösung?
Ob benutzerdefiniertes Datenmodell-Trainings, kundenspezifische Workflow-Integrationen, Cloud oder On-Premise, oder erweiterte Sicherheitsfunktionen, mit Tucan.ai ist alles möglich. Schneiden Sie Ihr Paket gemeinsam mit Ihrem persönlichen Kundenberater auf Ihre Bedürfnisse zu.
Transcription quality

To compare the quality of Amberscript's and Tucan.ai's transcription tools, we uploaded the following video interviews of Christoph Waltz discussing his role in James Bond's Spectre and other parts of his career. We chose these videos because Waltz interviews in both German and English, giving us an opportunity to test both tools in the two languages with the same person's voice as a control.
Word Error Rate
Before we compare the two tools, it's worth mentioning Word Error Rate (WER), the common metric that's used to test the validity of a speech recognition or automatic transcription tool. WER is simply "the ratio of errors in a transcript to the total words spoken." The lower the percentage, the better the tool.
Amberscript shares how its WER changes with different microphones. They boast a WER of as low as 10%, which is considered good but can go up to 40-80% if it has poor audio quality. In essence, if you're using Amberscript, you'll want a high-quality microphone.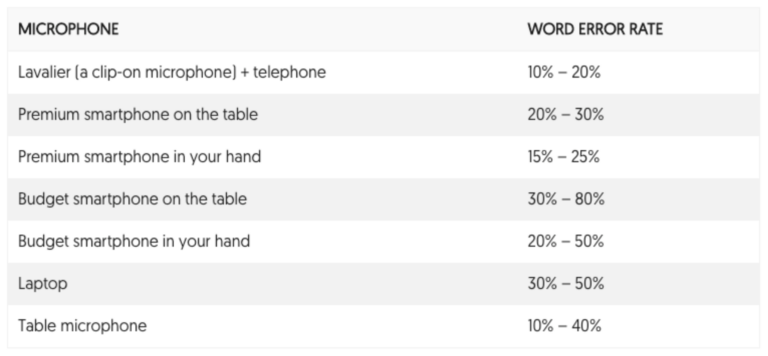 Amberscript's transcription tool boasts an accuracy rate of 85%, while Tucan.ai's speech recognition software offers 90%.
Testing audio uploads
Amberscript
Now to test the two Christopher Waltz interviews. Using Amberscript, you can upload both files.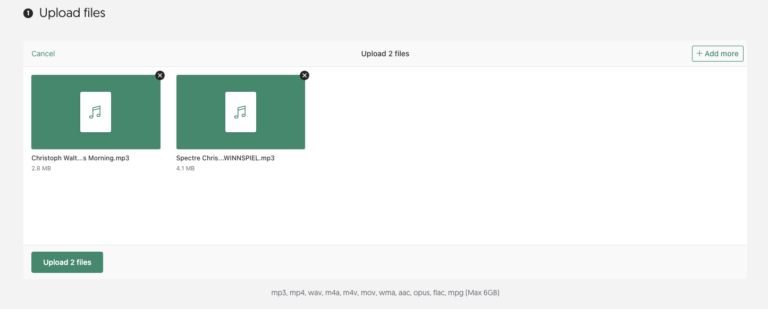 When you upload the files, Amberscript clarifies that their accuracy is 85% making their WER 15%. This isn't the recommended quality of 10%, but it's still acceptable.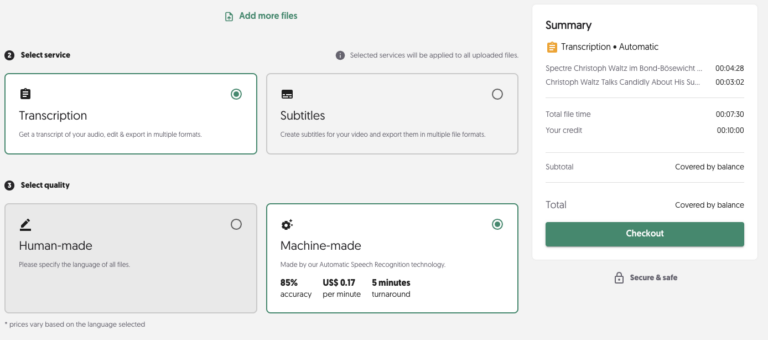 Likewise, Amberscript limits you to only 10 minutes of free audio uploading. Beyond that, it's €20 per hour.
After uploading the file, it took about 1-2 minutes for both of them to complete. It was pretty fast.
The editor opens for the first time with a quick tour that highlights the helpful features and shortcuts that makes editing the transcript faster.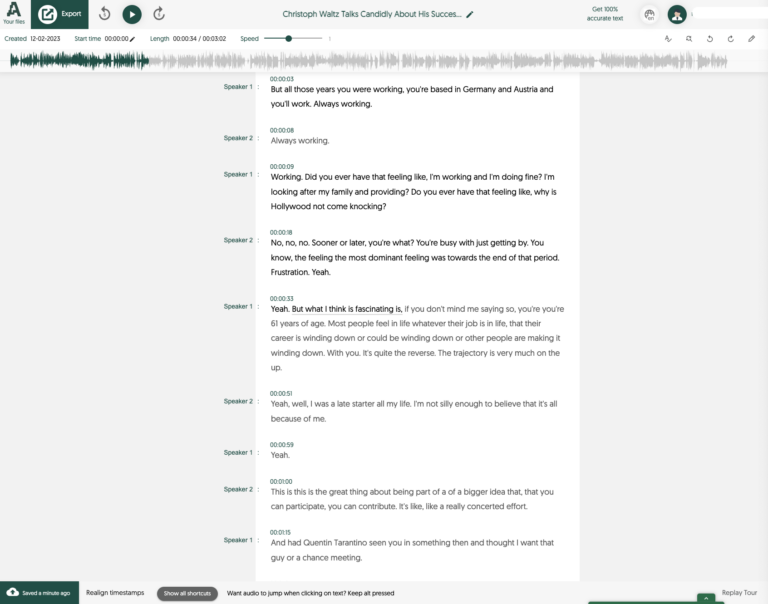 In the English export, of the 435 words spoken, 3 of them were incorrect. Therefore, the WER was 0.7%. That's quite good. Similar results were seen for the German interview as well.
Tucan.ai
Using Tucan.ai, you can upload one audio file at a time with a straightforward UI.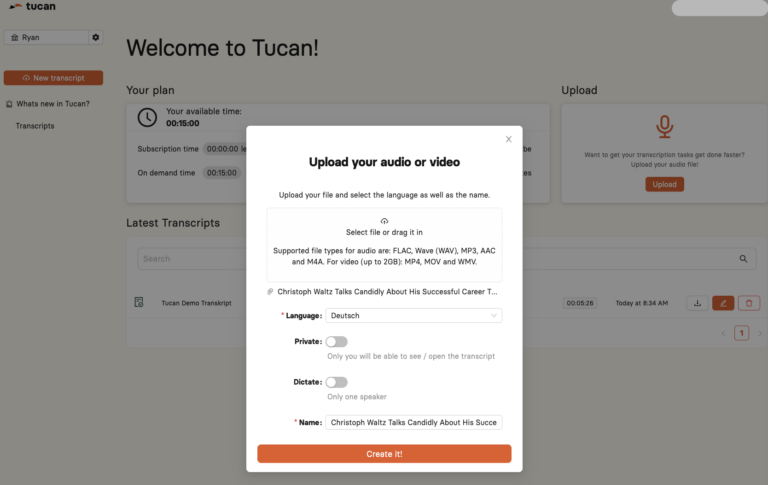 The transcription took about 2 minutes. Once it was done, it was time to progress to the editor to see the WER. Whereas the WER in Amberscript had to be manually calculated, Tucan.ai is both more efficient and transparent; the WER is automatically calculated and they also include a table with transcribed words that are very accurate or need a second look.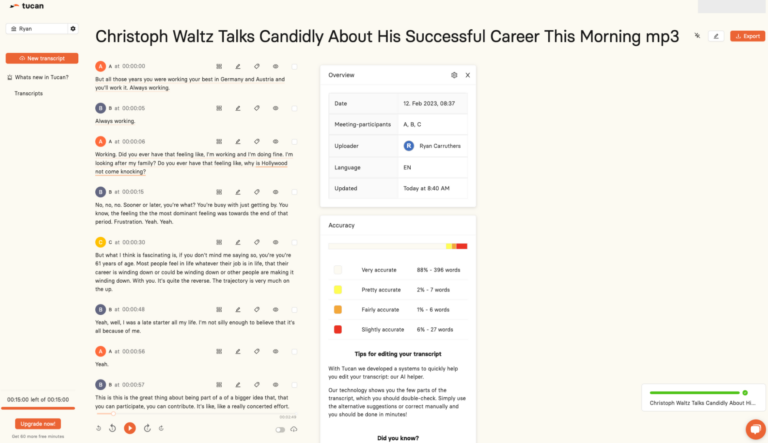 Overall, in the English export of 435 words, 5 of them were incorrect. This gave it a slightly higher WER than Amberscript, at 1% vs 0.7%.
The one difference, however, was how easy it was to spot the errors. By highlighting them in a separate table, Tucan.ai made it a lot easier to correct. In Amberscript, correcting the word involved re-listening to the audio, actively noticing the mistake between the audio and what was transcribed, and manually altering the output.
Below, we'll outline a variety of core features in more detail.
Want to test Tucan.ai for free?
Features
When choosing a transcription tool, there are a few features to look for to make sure you're getting your money's worth, and it has what you need. We'll detail the seven core features below.
Summarisation
Amberscript: Their transcription tool doesn't summarise results.
Tucan.ai: Has the ability to summarise audio recordings from meetings, providing action items and takeaways.
Summarisation is an important feature of Tucan.ai's transcription tool. Summarising your meetings automatically using Tucan.ai's AI-powered tool helps you quickly see the most important points and takeaways from a meeting. It's inefficient to manually go through long transcripts and identify what is truly important. By summarising the content with Tucan.ai, you can quickly get a high-level overview of the meeting, which can save them time and help them focus on what's most relevant.
Export formats
Amberscript: Plain text file (.txt), Microsoft Word (.docx), SubRip (.srt), JavaScript Object Notation (.json), Web Video Text Tracks (.vtt), European Broadcast Union subtitles (EBU-STL)
Tucan.ai: Plain text file (.txt), Microsoft Word (.docx), SubRip (.srt), Open Document Text (.odt), Portable Document Format (.pdf)
Another core transcription software feature is the possibility to export the transcript in multiple file formats. The exporting feature makes it easy to send the transcript to whoever needs it in whatever file format you'd like it.
Both tools offer the most common export formats but differ in the more niche ones.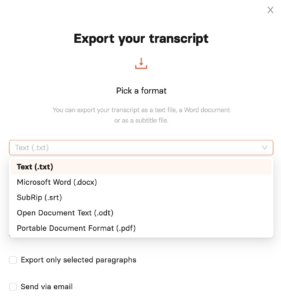 Sentiment analysis
Amberscript: Does not identify the sentiment of speakers.
Tucan.ai: Can detect the emotions of speakers with a high level of accuracy.
Sentiment analysis is when an AI tool classifies whether the text in a transcript or written document is positive, negative or neutral. Using algorithms, it identifies emotions such as joy and anger within what's said.
This is immensely beneficial when looking back at meetings you've had with team members or you're sharing your meeting notes with others who didn't attend. Sentiment analysis can quickly reveal how the conversation went. Additionally, even if you were present at the meeting, an AI sentiment analysis tool, like Tucan.ai, can reveal emotions that you missed.
Correcting errors
Amberscript: Has the ability to correct mistakes but doesn't highlight the errors quickly.
Tucan.ai: Streamlined correction using AI to detect highly accurate transcriptions versus those that need a second look.
A unique feature of Tucan.ai's transcription tool is the AI helper. Within your editor, the AI helper shows you a few parts of the transcript that you should double-check. Simply use the alternative suggestions or correct them manually. It's an incredibly fast way to make sure the transcript is accurate.
Multi-user accounts
Amberscript: Multiple users.
Tucan.ai: Unlimited users.
Transcribing and summarising meetings is a powerful way to disseminate information throughout your team efficiently. For that reason, the more people who can use the tool, the more value it delivers. Within Tucan.ai's Transcription Pro plan, you can have unlimited user access without extra costs.
On-premise functionality
Amberscript: Has an on-premise service for customised high-volume cases.
Tucan.ai: On-premise solutions are available for enterprise customers.
Tucan.ai operates its own AI engine and can also be installed on-premise for enterprise clients if special protection is required.
Integrations
Amberscript: Supports integration with video management systems like Kaltura, Opencast, Panopto, Company Webcast, and more
Tucan.ai: Integrates with Zoom, MS Teams and Google Meet and has the ability to customise for enterprise customers.
Tucan.ai integrates with common content, collaboration, task, conference and customer management systems, including Zoom, MS Teams and Google Meet, to transcribe and summarise meetings.
API access
Amberscript: API is available in more than 80 languages. They support dual-channel audio, automatic punctuation and casing, speaker labels, timestamps, and all common audio/video file formats.
Tucan.ai: Provides API access and the following features: multi-language support in (German, English, Spanish, and French), dual-channel audio, speaker labelling, summarisation, automatic punctuation, timestamps, sentiment analysis and various audio and video formats.
Tucan.ai's flexible API enables any workplace to integrate its transcription and summarisation tools into their customers workflows.
Editor
Tucan.ai's editor has an easy-to-understand UI. At first glance, Tucan.ai provides more information upfront than Amberscript. For starters, the overview table provides general information on the date, owner, and language of the upload, as well as identifies how many individual speakers are prese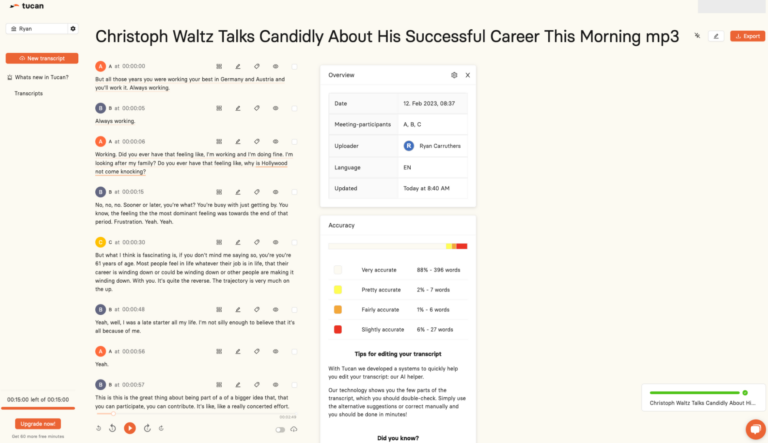 The report below the overview table is the accuracy table. Unique to Tucan.ai, the AI has a high accuracy rate even when speakers have a strong dialect and accent. Likewise, they concretely identify which words need a second look. The accuracy report lists which words are 'very accurate' down to 'slightly accurate' and 'needs review'.
This makes correcting the transcript much faster than Amberscript.
Within Amberscript's editor, the details run along the top, rather than on the right-hand side like Tucan.ai's editor. It shows the audio file above the transcript with a straightforward UI to pause and scrub along the timeline.
Sometimes, when editing a transcript, it's easier to scan at 1.25 or 1.5x speed. Most users are familiar with the YouTube playback settings which offer different speeds. In Amberscript, it's a slider which may feel odd when you first use it, but it's a small feature.
Amberscript also offers a service where a real person will review your transcript to make sure it's 100% accurate. This is a paid service, however, and will cost you €2.55 per minute.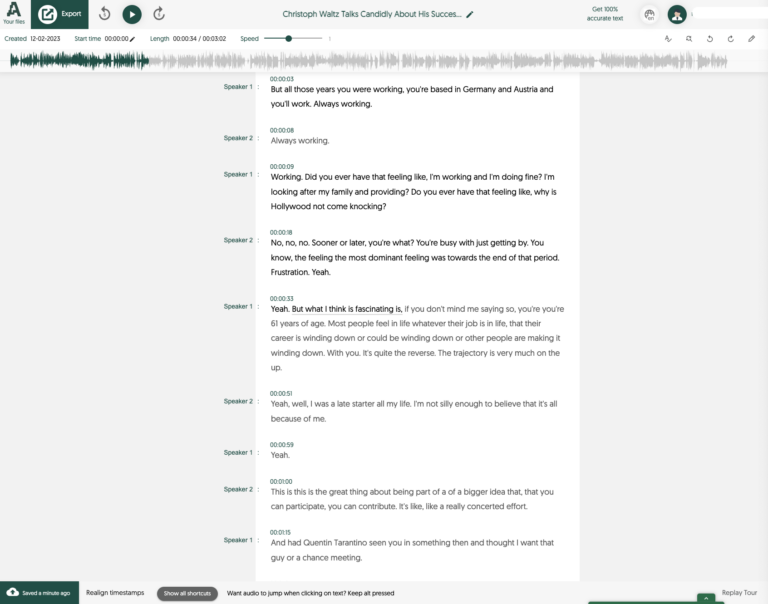 As you edit your transcript, you can use their "streamline correction" feature, which makes it easy to spot the areas where you need to have a second look.
When correcting highlighted areas, the transcription occasionally highlighted when people were speaking over one another, which led to mixed results.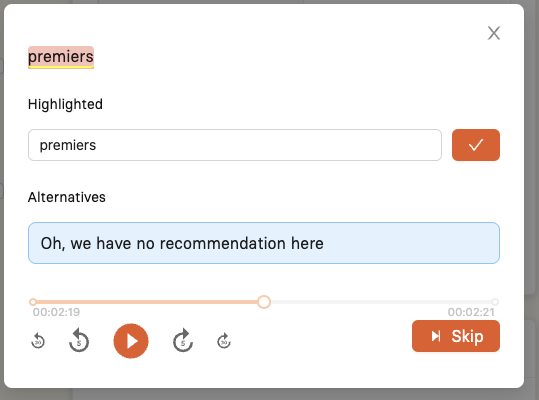 However, it was easy to find the correct speaker and word by playing the audio for a second or two.
Additionally, a unique feature of Tucan.ai is that it tags the speakers, labelling them as A, B, C, and so on. This is helpful as it makes it easy to see who's talking. Likewise, if you need to edit the speaker, it's easy.

Want to test Tucan.ai for free?
Data Privacy
Amberscript's privacy policy summarised
Amberscript uses Amazon Web Services located in Frankfurt, Germany for their IT infrastructure, which stores and processes all data on highly secure servers with regular backups. Transcriptions in certain languages will never leave the EU, while other languages may use third-party providers for processing which may result in the data leaving European servers. However, all third-party providers are contractually obligated to delete the data immediately after processing.
Tucan.ai's privacy policy summarised
Tucan.ai uses servers from Amazon Web Services (AWS) to store, host and maintain users' personal data. AWS servers are located in Frankfurt, Germany. Data will be processed exclusively in Europe via AWS for the purpose of storing, hosting or storing users' personal data and will not be transferred to any AWS web server in a non-European country.
Support
Tucan.ai's team is always on standby to offer support, answer questions, and help you get the most out of their platform. Within the app, you can reach a member of the Tucan.ai team at any time with the chatbot in the bottom right corner.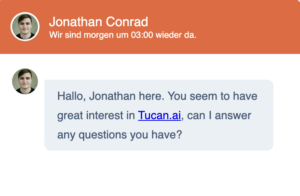 Likewise, Tucan.ai is easy to reach via phone, email, or our office. The team values feedback of all kinds, as their ongoing goal is to evolve their platform in alignment with their users' real needs.

Conclusion
When you're evaluating a transcription tool, it's always important to consider your unique use case. Do you only need a quick transcript from a meeting or interview? Or do you need a tool that can integrate into your workflow and make your meetings more accessible and actionable?
If you're looking for a powerful transcription and meeting recording tool that saves you time and helps your teams get the information they need faster, try Tucan.ai.
Put manual transcription and note-taking in the past and focus on having impactful meetings. Tucan.ai's well-trained speech recognition AI takes over tedious documentation tasks during interviews, meetings and other conversations and summarises the key points of the discussion. It learns as you use it, integrates with the communication tools you use every day, and is scalable across your team.
Whether you want to transcribe the meeting you had today, roll out notes for a previous meeting to help your whole organisation, or create a custom solution for your enterprise, learn more about how Tucan.ai can make your meetings better.
Auf der Suche nach einer Enterprise Lösung?
Ob benutzerdefiniertes Datenmodell-Trainings, kundenspezifische Workflow-Integrationen, Cloud oder On-Premise, oder erweiterte Sicherheitsfunktionen, mit Tucan.ai ist alles möglich. Schneiden Sie Ihr Paket gemeinsam mit Ihrem persönlichen Kundenberater auf Ihre Bedürfnisse zu.